Cosmetic & Private Dentistry in Chessington
At Mount Road Dental Surgery we can create the beautiful smile you deserve. From whiter teeth to a complete makeover our dentists have the skills and expertise to transform you smile and make your dreams come true. We have cosmetic dental solutions for anyone wishing to have a new look.
Our range of cosmetic dentistry treatments include:
Dental Implants / Dental Veneers / Crowns & Bridges / Inlays & Onlays / Teeth Whitening / Tooth Straightening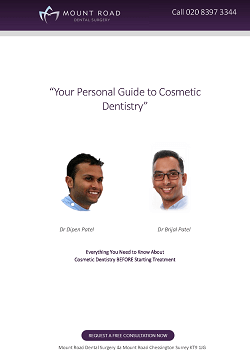 free information pack
download a free information pack
Find out:
The costs and lowest price alternatives
Your options and choices for treatment
Are you suitable for treatment?
How white we ought to go with teeth whitening?
Should you opt for dental veneers or orthodontics?
How long does treatment take?
Our patients can also request a smile makeover plan which involves a full consultation with a dentist who can create a bespoke treatment plan to achieve that beautiful smile you long for. Our latest 3D Scanning facilities can demonstrate to our patients how their new smile will look before treatment commences.
To help complement your smile, take years off your looks with a range of facial aesthetic treatments to smooth out your wrinkles or enhance your facial features.
Some of the treatments our dentists provide