If you're looking for Invisalign in Surrey from an experienced and expert teeth straightening dentist, our state-of-the-art Chessington clinic can help.
We are extremely proud of our highly experienced Invisalign certified dentist, Dr. Brijal Patel (GDC No: 85874), as he has helped to successfully transform the smiles of hundreds of patients from all over Surrey.
Dr. Patel is an official Gold Provider of Invisalign, one of the most experienced providers in the Chessington area.
All our dentists are registered with the General Dental Council (GDC) and our practice is monitored and regulated by the Care Quality Commission (CQC), so you can rest assured your in safe, expert hands with our team.
Brijal Patel Invisalign Dentist Review via Google My Business
"I see Brijal Patel and Karen the hygienist. Both are friendly, welcoming, professional and calming and all treatment is explained clearly. Nobody likes going to the dentist, but I can't recommend this practice enough."

What is Invisalign?
Invisalign is a modern tooth straightening concept that uses a series of clear braces which are virtually undetectable when smiling and talking.
They are comfortable to wear and can be removed anytime when eating or cleaning your teeth.
Clear braces are now becoming more and more popular especially with adults. Unlike conventional braces, there are no metal brackets or wires attached to your teeth.
Invisalign involves creating a series of bespoke aligners which gradually move your teeth towards the desired position. Braces will be replaced every two weeks and our dentists will monitor you're the teeth straightening process ensuring your treatment is on course to achieve your new look.
Smile Design
Each patient will have varying requirements and treatment durations, so it is important we spend some time developing the perfect plan for you.
Our diagnostic planning includes 3D digital scanning and modelsimulation so we can see the final predicted result before we start tooth movements.
Brij will assess your smile using photographs and 3D scans to design your smile. He will consider the following features:
Symmetry of your teeth (particularly your front teeth)
How straight your teeth are i.e. Not overlapping, crooked or spaced too far apart
Tooth proportion
Colour of your teeth
Spaces between the tips of your teeth
Smile width
Gum health and gum line
Shape, colour and fullness of lips
Treatment Products & Costs
PRODUCT NAME
NUMBER OF ALIGNERS
CLINICAL SCOPE
COSTS FROM
Express Package
Upto 7
Relapse cases / very mild crowding
£1,500
Lite Package
Upto 14
Class I, mild crowding / spacing, non-extraction, pre-restorative
£2,500
Comprehensive Package
As many aligners as needed to reach our goal
£3,995
Invisalign SmileView
If you you would like to see what Invisalign aligners could do for you, please follow the link to the SmileView app. It only takes 60 seconds!
It simulates what your smile could look like using a photograph of you.
You will need to use a mobile phone or tablet to take the selfie.
Please fill in your details and click the 'send to my dentist' button once the results are back.
Invisalign Dental Monitoring
The faster way to a new smile. Our new Dental Monitoring system enables us to schedule remote virtual consultations and monitor the evolution of your treatment.
We maintain a virtual connection with you, monitoring your treatment and providing you with high quality care and the best possible patient experience with less face to face visits.
Invisalign costs
We have ensured our Invisalign prices are extremely competitive when compared to other certified Invisalign practitioners in Chessington and Surrey.
Our Invisalign prices start from £1,500 and includes a free consultation, free home whitening kit, free fixed, bonded retainer(s) and free removable retainer(s).
Invisalign is the most popular clear aligner system on the market with average case fees of around £2,500, but once assessed, we will customise your plan for you.
0% Finance available through Tabeo Finance
Spread the cost of your dental treatments with 12 Months Interest free finance. Click here for more information and to calculate your rate.
Case Studies
This young man wanted to have a more natural even smile. He has always wanted to keep the gap, but reduce it.
Due the the position of the lower teeth and the jaws, spaces had to be kept adjacent to the smaller lateral incisors.
We performed some simple pre-restorative Invisalign to close the gap.
After which tooth coloured composite was expertly bonded on 2 teeth to widen.
Other treatments that compliment Invisalign
Whitening / Composite bonding / Facial aesthetics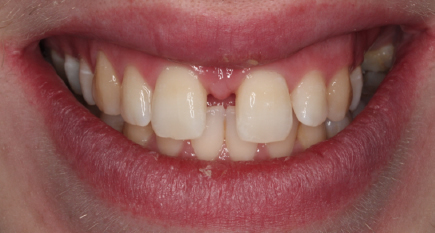 Examples of composite bonding by Dr. Brij Patel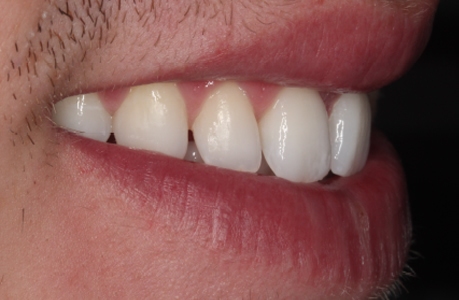 The steps to a beautiful new smile with Invisalign
Step 1: Visit Your Invisalign Certified Dentist
During this first step you will need to make an appointment with our Invisalign Certified Dentist, Dr Brij Patel.
During the initial visit, Dr. Brij Patel will help you decide on your course of treatment.
Step 2:
Dr. Brij Patel will take precise digital impressions of your teeth and a bite registration. He will then plan your treatment using 3D planning and simulation software, and send this to Invisalign.
Step 3:
Invisalign sends a Clincheck (a computer generated image of the anticipated result) Dr. Brij Patel will share this with you and will use the Clincheck to create your smile.
Step 4: Invisalign makes your Aligners
Invisalign uses advanced technology to transform your bite impressions into a custommade series of clear and removable aligners. There may be as many as 50 in the series or as few as 7 depending on your individual treatment plan.
Step 5: You Receive Your Aligners in a Few Weeks
During your next visit to your dentist, you will receive your first set of aligners. The Aligners will be fitted and any attachments put in place.
Your dentist will most likely give you a few additional sets for you to wear before you return for your next visit.
Step 6: You Wear Your Aligners
You'll wear each set of aligners day and night for as little as 1 week, removing them only to eat, drink, brush, and floss. Total treatment time averages 6-12 months, but will vary from case to case.
You'll visit your dentist only about every 4-6 weeks to ensure that your treatment is progressing as planned.
Step 7: You've Finished the Treatment
Congratulations! When you're finished wearing each aligner in the series, your treatment will be complete and you will have the beautiful smile you've always wanted.
The result will be retained by clear retainers worn at night. We will advise you of the best retention plan for you.
NEXT STEP: Book a video consultation today, and discover what Invisalign can do for you.
Free Video consultation
We are proud to offer free consultations to discuss straightening crooked teeth.
At Mount Road Dental Surgery our Dr. Brij Patel will carry out an initial smile assessment and discuss whether Invisalign is the best option to create the smile you wish for.
If you would like to know more about how Invisalign clear braces can work for you, please click on the consultation button below.
In preparation for the video consultation, we advise you have a 2-D simulation done. With Invisalign SmileView.
We need to see you in the clinic to have a 3D simulation.