Teeth whitening is a great, simple and effective way to brighten up your smile. It does not remove any natural tooth material.
Whitening only works on natural teeth and won't change the colour of existing crowns, fillings, implants, veneers, bridges or denture teeth. These may need to be replaced to match the new colour of the natural teeth.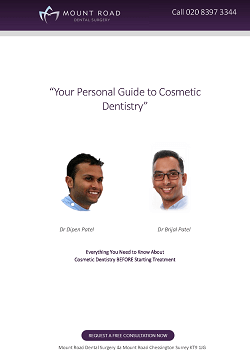 free information pack
download a free information pack
Find out:
The costs and lowest price alternatives
Your options and choices for treatment
Are you suitable for treatment?
How white we ought to go with teeth whitening?
Should you opt for dental veneers or orthodontics?
How long does treatment take?
We offer two types of teeth whitening services:
Take Home Whitening Kits
A tooth whitening gel (prescribed by the dentist) is placed by yourself, in a tray that is custom made to fit over the teeth like a very thin gum shield. The tray containing the gel is worn for a period of 1-2 hours a day for 14-28 days (depending on how white you want your teeth). This involves 2-3 visits:
Visit 1 – We take impressions of your teeth and gums to construct a quality bespoke tooth whitening tray(s) to fit around your teeth
Visit 2 – We fit the custom fit tray(s), take photos and your shade before treatment, and give you the gel with specific instructions on the do's and dont's.
Visit 3 – We usually review you 2-4 weeks later to take your new shade.
For a more information about teeth whitening, book a consultation with our dentists at Mount Road Dental Surgery. Simply call 020 8397 3344 or fill in the form below.
In Surgery Teeth Whitening
Chair side tooth whitening involves the dentist applying whitening gel directly to your teeth, which is then activated by a special light. It is usually carried out in one or two visits usually lasting 60-90mins each appointment. We recommend supplementing this with the home kit to give the best results.
Some patients may experience sensitivity from hot and cold drinks after treatment. If you are considering Teeth Whitening, please ask your dentist for further information about risks, benefits and suitability.