White fillings can be used to repair chipped, broken or worn teeth as well as areas of decay. They chemically bond to the tooth structure and can immediately strengthen the affected tooth.
They can aid in tooth sensitivity caused by decay and can also be useful for covering over stained or discoloured teeth as a cosmetic option.
White fillings are shade matched to appear natural, so they blend it well with your teeth colour. After the white filling is placed into the cavity and moulded into the tooth's shape, it is often hardened with a curing light. This forms a very hard substance and will withstand the forces in your mouth when you bite, over a long period of time.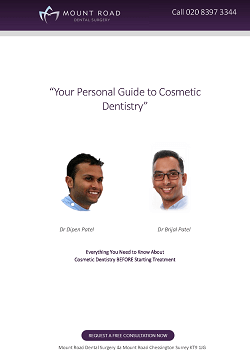 Free information pack
Download a free information pack
Find out:
The costs and lowest price alternatives
Your options and choices for treatment
Are you suitable for treatment?
How white we ought to go with teeth whitening?
Should you opt for dental veneers or orthodontics?
How long does treatment take?
White fillings are used as an alternative to amalgam (metal) fillings, which are aesthetically poor and may contain mercury. Teeth need less preparation for white fillings than for amalgam metal fillings and results are natural, long lasting, and affordable.
Before Treatment
As first glance, there doesn't seem to be much wrong with this smile. Though she wasn't in any pain, she wanted to improve her old and tired looking fillings on her front 2 teeth.
They were worn and discoloured.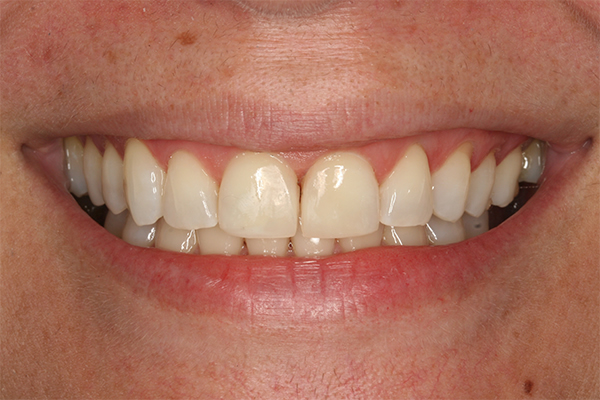 After Treatment
Dr. Brij Patel assessed the smile, and replaced the composites with modern lifelike composite fillings.
Improvement made:
Better Proportion - the subtlety lengthened the teeth, using more ideal length to width ratios.
Natural Colour - the new composite was layered to help blend in and mimic the natural translucency of the tooth.
If you need a tooth filling repaired or would like to change your old amalgam fillings with natural looking white fillings then please contact our dentists at Mount Road Dental Surgery.
Create your perfect smile
Composite bonding can be done in 1 simple treatment session. Ask how Dr. Brij Patel can use advanced composite bonding techniques to improve your smile.
We can also advise if other treatments may be used in combination to create your perfect smile.
Ask about cosmetic dentistry treatments such as:
Teeth whitening
Stain removal
Cosmetic contouring
Straightening teeth
3D smile designing
Book your free smile design consultation today! Call 020 8397 3344