Obagi Treatments in Surrey (Chessington)
Obagi medical grade skincare products are a fantastic way to help correct visible signs of skin ageing. With a fantastic range of scientifically proven products, there's an Obagi skin care regime for anyone. The products work fantastically well in conjunction with injectable anti wrinkle and dermal filler treatments.
Our non-surgical facial rejuvenation treatment expert is our highly experienced dental surgeon Dr Dipen Patel (GDC No: 103883) who has over 14 years of experience in dentistry and over 6 years of experience in the facial aesthetics field.
Obagi ELASTIderm
ELASTIderm Eye products are clinically proven to help reduce fine lines and wrinkles around the eye, and also help improve puffiness and dark circles under the eyes. The products contain a bi-mineral complex, malonic acid and caffeine (helps with the puffiness). ELASTIderm Eye products go perfectly with crown feet treatment around the eyes and/or tear trough fillers.
Before ELASTIderm
After 2 Weeks
Before ELASTIderm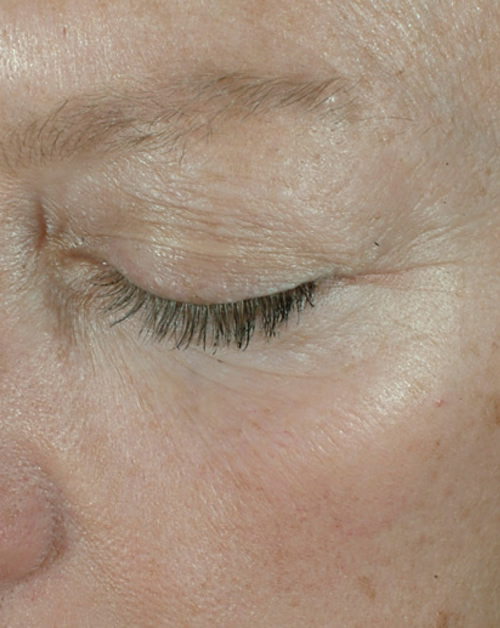 After 8 Weeks
Obagi 360
A fantastic simple system made up of 3 products to help protect and rejuvenate the skin. The system consists of:
Exfoliating cleanser (180ml) - mechanical cleanser which clears dull and dry skin.
Retinol 0.5% (28g) – slow release retinol to help smooth the skin and improve complexion.
Hydrafactor Broad Spectrum SPF50: dual function moisturiser and skin protector against UVA and UVB rays.
Obagi Vitamin C Serum
Studies have shown that topical Vitamin C, in the form of L-ascorbic acid, can help in:
Improving protection against the sun
Helping to repair damaged skin from UVA/UVB rays from the sun
Stimulation of collagen building
Reducing skin discolouration
Reducing fine lines
Obagi's Vitamin C serums are formulated in 10%, 15% or 20% concentrations.
Obagi Hydrate
Obagi Hydrate & Hydrate Luxe are specially formulated to provide long-lasting hydration. They contain naturally derived ingredients, which are dermatologically tested to be non-irritating and non-sensitising.
Obagi Sunscreen
The sun's UVA and UVB rays can cause sunburn, faster ageing skin, sunspots and an increased risk of skin cancer, so its imperative we protect our skin all year round. We encourage daily use to prevent premature skin ageing. Obagi Sun Shield Broad-Spectrum SPF50 uses zinc oxide is a physical and chemical sunscreen which is non-comedogenic, hypoallergenic and dermatologist tested.
FREE Consultations
Here at Mount Road Dental Surgery we are offering FREE Consultations with Dr Dipen Patel. So why not come in and see if Obagi treatment can work for you.
Although most of our patients are from Chessington and Leatherhead, thanks to our reviews and recommendations we have many regulars that visit us from all parts of Surrey.
free information pack
download a free information pack
Find out:
The costs and lowest price alternatives
Your options and choices for treatment
Are you suitable for treatment?
How do Botox and fillers compare?
How long does treatment take?
5 steps to great skin guide
Plus lots more…